Donation by the Ubipharm Foundation
Published March 8, 2019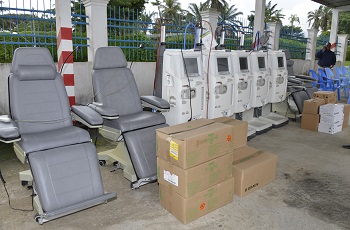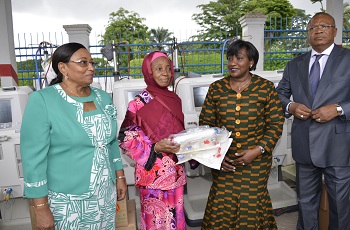 Ivory Coast: Renal Failure: The Ubipharm Foundation makes a donation of 19 dialysis generators.

On Thursday 26 June 2014, the Minister of Health and AIDS control, Mrs Raymonde Goudou Coffie, presided over the ceremony in Abidjan-Cocody for the presentation of dialysis equipment donated to the Emergency Medical Services by the Ubipharm Foundation whose Ivory Coast President and Coordinator is Mrs Juliette EGNANKOU.
This donation of 19 dialysis generators, ten armchairs and 3,000 dialysis kits has a total estimated value of 100 million CFA francs, which is more than 150,000 euros.
Mrs Raymonde Goudou hailed this donation as a "breath of fresh air" to improve the management of patients with renal failure, which is "a public health concern in Ivory Coast".
Mrs Juliette EGNANKOU specified that this donation, graciously presented by ANIDER (Normandy association for the management of renal failure by dialysis, patient education and research), was aimed at improving the manner in which patients are taken in charge and providing them with the opportunity and assurance of local care.